Meet Artist Kate Blairstone
Kate Blairstone is an artist and illustrator based out of Portland, Oregon. She has built her reputation on helping clients translate their values into immersive and memorable experiences for their guests and express themselves in a way that feels authentic, thoughtful, and inspiring. Her artwork takes big ideas and creates something tangible people will love sharing. Kate designed our guestroom wallpaper to reflect the vibrant neighborhood of West Seattle. Here is a look at some of the icons you'll see.
Octopus

The giant Pacific octopus resides in the Puget Sound and weigs up to 150 pounds with an arm span of up to 20 feet.
Scuba Divers

Scuba divers from all around come to Alki Beach Junkyard and Alki Beach Seacrest Coves 1, 2, and 3 to research and explore a variety of fish and invertebrates.
Seattle Skyline

Enjoy the best views of the Seattle skyline, Puget Sound, Olympic Mountains, and ferries from Alki Beach.
Surrey

Surreys are one of the most fun ways to explore the West Seattle waterfront. Wheel Fun Rentals at Alki Beach has the largest selection of specialty cycles.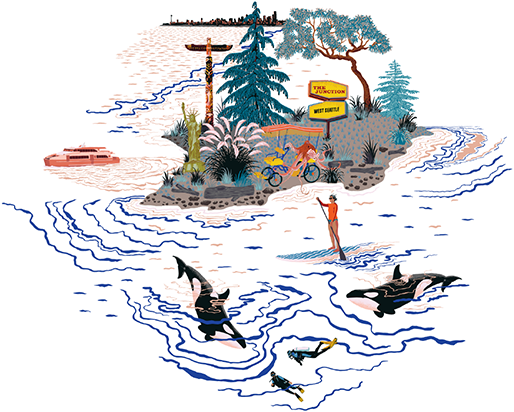 Water Taxi

The West Seattle Water Taxi operates year-round and takes passengers from Seacrest Dock on Alki Point to Pier 55 on Seattle's downtown waterfront.
Native Trees

Washington's forests contain more evergreens than almost anywhere else in the United States. You can spot beautiful, bountiful foliage all around West Seattle.
Totem Pole

Located in Rotary Viewpoint Park at the intersection of SW Alaska and 35th Ave SW, Native American Robin Young carved the 18-foot-tall totem pole in 1976.
Paddle Boarder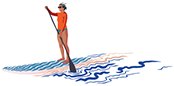 One of the best ways to enjoy Alki Beach is on the water. Paddleboard and kayak rentals are available at Alki Kayak Tours.
The Junction Sign

Named as one of the "Eight Must-Visit American Record Stores" by the Travel Channel, the Easy Street Records sign is located in the heart of The Junction.
Orcas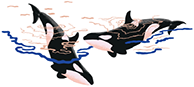 Orcas, or killer whales, are Pacific Northwest marine icons. The southern resident community, composed of J, K, and L pods, and transient orcas are most commonly found in the Puget Sound.
Statue of Liberty

Gifted from Reginald H. Parsons and the Seattle Council of the Boy Scouts of America in 1952, a miniature replica of the original "Liberty Enlightening the World" in New York City, is located on Alki Beach.